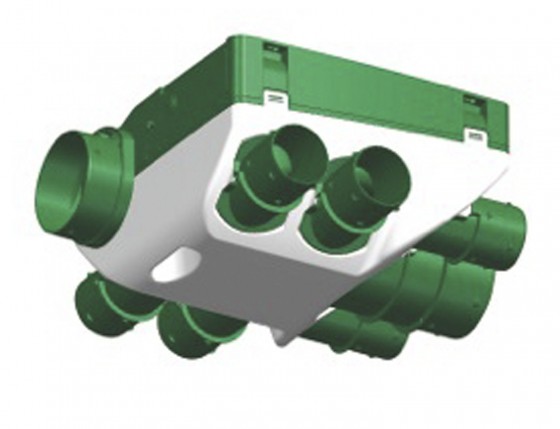 Passivent A151DC G Fan
Product code: PVA151DCG
The A151DC G is the most flexible fan we offer for single homes and apartments (one fan per dwelling), providing the perfect balance of size and power.
Designed with a flat pressure curve to be used with humidity-sensitive extracts as part of a Passivent iMEV Local system. It typically utilises Passivent's SRD75 semirigid ducting, helping to reduce installation
time by 50%.
Eligible for energy use calculations under Appendix Q of SAP (Standard Assessment Procedure for Energy Rating of Dwellings).
Energy efficient.
Can be mounted in various different
profiles eg on the floor, wall or ceiling.
Spigot orientation can be changed for
even more installation possibilities.
Rear facing fan blades improve acoustic
performance, and reduce air resistance
which will improve longevity.
Flat fan curve to mimic a small constant
pressure system.
| | |
| --- | --- |
| £4.99 Standard Delivery 2-3 Working Days inc. VAT - Mainland UK Only - (NB: Orders placed after 3pm Friday will be dispatched the following Monday (In the event of Good Friday/Bank Holiday Monday, this will be Tuesday)) | £4.99 |
| £24.00 Next Working Day Delivery inc. VAT - Mainland UK Only - (NB: Orders placed after 3pm Mon-Thu will be dispatched the following day. Orders placed after 3pm Fri will be dispatched the following Mon (If Good Fri/Bank Holiday Mon, this will be Tue)) | £24.00 |
| £4.99 Extended Lead Time 7-10 Working Days inc. VAT - Mainland UK Only (NB: Orders placed after 3pm Friday will be dispatched the following Monday (In the event of Good Friday/Bank Holiday Monday, this will be Tuesday)) | £4.99 |
| £50.00 Saturday Delivery inc. VAT - Mainland UK Only - (NB: Orders must be placed BEFORE 3pm) | £50.00 |