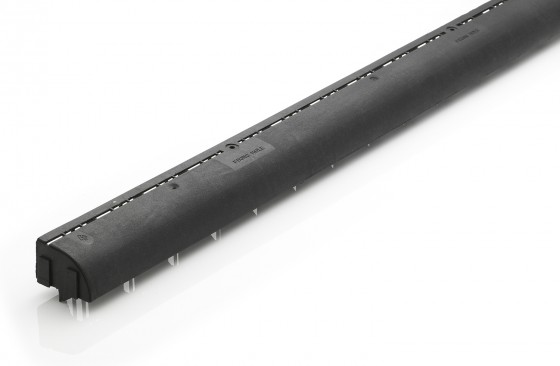 Glidevale FV250 Fascia Ventilator - Black 1m length
Product code: GVFV250SNG
Click here for FIXING INSTRUCTIONS
Glidevale FV250 Over fascia ventilator (25 000mm²/m ventilation area) - Black. For use with flat and low pitched roofs below 15% or where insulation follows rafters and provides 25mm airflow.
Quick and easy to install.
Lightweight and durable.
Does not effect slating/tiling process.
Unobttrusive when fitted, hidden by gutter and roof covering.
Unique design povides effective resistance to both driving rain and large insects.
| | |
| --- | --- |
| £9.00 Standard Delivery 2-3 Working Days inc. VAT - Mainland UK Only (NB: Orders placed after 3pm Fri will be dispatched the following Mon (In the event of a Good Fri/Bank Hol. Mon, this will be Tue)) | £9.00 |
| £24.00 Next Working Day Delivery inc. VAT - Mainland UK Only (NB: Orders placed after 3pm Mon-Thu will be dispatched the following day. Orders placed after 2pm Fri will be dispatched the following Mon (If Good Fri/Bank Hol. Mon, | £24.00 |
| £9.00 Extended Lead Time 7-10 Working Days inc. VAT - Mainland UK Only (NB: Orders placed after 3pm Fri will be dispatched the following Mon (In the event of a Good Fri/Bank Hol. Mon, this will be Tue)) | £9.00 |
| Channel Island Delivery 3-5 Working Days Inc. VAT (NB: Orders placed after 3pm Fri will be dispatched the following Mon (In the event of a Good Fri/Bank Hol. Mon, this will be Tue)) | £42.50 |
| £50.00 Saturday Delivery inc. VAT - Mainland UK Only (NB: Orders must be placed BEFORE 3pm Fri (or 3pm Thu if Good Fri)) | £50.00 |
| £9.00 Extended Lead Time 20 Working Days inc. VAT - Mainland UK Only (NB: Orders placed after 3pm Fri will be dispatched the following Mon (In the event of a Good Fri/Bank Hol. Mon, this will be Tue)) | £9.00 |