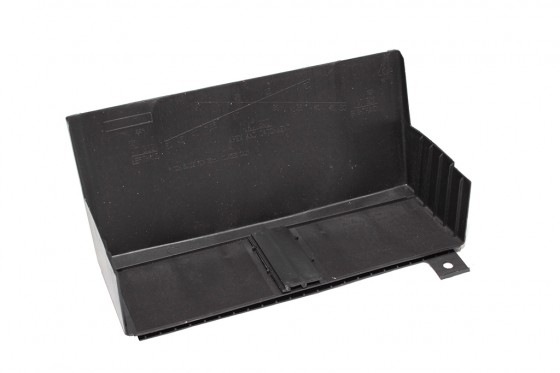 Glidevale AT300 Intraweep Apex/Catchment Abutment Cavity Tray
Product code: ZAT300
AT300 Intraweep Apex/Catchment abutment cavity tray for Brickwork - Unleaded. Part of the innovative Glidevale Cavity Tray range offering many advantages over other systems. Used at the apex of the installed trays.
Quick and easy installation with handy integral pitch markers.
Robust, self supporting design avoids the need to create/fold complex shapes on site.
Unique integral weep prevents the build up of water.
Fleximouth mortar barrier allows flashing to be installed without the need to rake a joint (and potentially damage the tray).
Integral textured finish provides an excellent mortar key.
Made from acid, alkaline and sulphate resistant polypropylene.
| | |
| --- | --- |
| £6.98 Standard Delivery 2-3 Working Days inc. VAT - Mainland UK Only - (NB: Orders placed after 3pm Fri will be dispatched the following Mon (In the event of a Good Fri/Bank Hol. Mon, this will be Tue)) | £6.98 |
| £24.00 Next Working Day Delivery inc. VAT - Mainland UK Only - (NB: Orders placed after 3pm Mon-Thu will be dispatched the following day. Orders placed after 2pm Fri will be dispatched the following Mon (If Good Fri/Bank Hol. Mon, this will be Tue)) | £24.00 |
| £6.98 Extended Lead Time 7-10 Working Days inc. VAT - Mainland UK Only (NB: Orders placed after 3pm Fri will be dispatched the following Mon (In the event of a Good Fri/Bank Hol. Mon, this will be Tue)) | £6.98 |
| Channel Island Delivery 3-5 Working Days Inc. VAT (NB: Orders placed after 3pm Fri will be dispatched the following Mon (In the event of a Good Fri/Bank Hol. Mon, this will be Tue)) | £42.50 |
| £50.00 Saturday Delivery inc. VAT - Mainland UK Only - (NB: Orders must be placed BEFORE 3pm Fri) | £50.00 |
| £6.98 Extended Lead Time 20 Working Days inc. VAT - Mainland UK Only (NB: Orders placed after 3pm Fri will be dispatched the following Mon (In the event of a Good Fri/Bank Hol. Mon, this will be Tue)) | £6.98 |