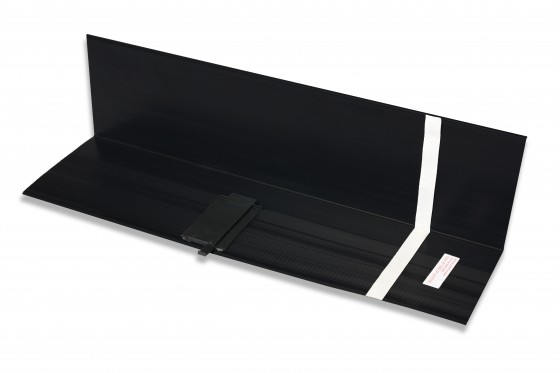 Glidevale HTR Refurbishment Horizontal Cavity Tray
Product code: ZHTR
HTR Refurbishment Tray - Unleaded. Part of the innovative Glidevale Cavity tray range. Used for refurbishment work and repairs to failed cavity trays. Particularly useful where an extension with a lean-to or flat roof is built against an existing cavity wall.
2½ brick length designed for ease of installation in existing masonry construction.
Self supporting - no need to tie into inner leaf.
Designed with unique weather protection lip.
Integral water discharge channel so no separate weepholes are required.
| | |
| --- | --- |
| £6.98 Standard Delivery 2-3 Working Days inc. VAT - Mainland UK Only - (NB: Orders placed after 3pm Fri will be dispatched the following Mon (In the event of a Good Fri/Bank Hol. Mon, this will be Tue)) | £6.98 |
| £24.00 Next Working Day Delivery inc. VAT - Mainland UK Only - (NB: Orders placed after 3pm Mon-Thu will be dispatched the following day. Orders placed after 2pm Fri will be dispatched the following Mon (If Good Fri/Bank Hol. Mon, this will be Tue)) | £24.00 |
| £6.98 Extended Lead Time 7-10 Working Days inc. VAT - Mainland UK Only (NB: Orders placed after 3pm Fri will be dispatched the following Mon (In the event of a Good Fri/Bank Hol. Mon, this will be Tue)) | £6.98 |
| Channel Island Delivery 3-5 Working Days Inc. VAT (NB: Orders placed after 3pm Fri will be dispatched the following Mon (In the event of a Good Fri/Bank Hol. Mon, this will be Tue)) | £42.50 |
| £50.00 Saturday Delivery inc. VAT - Mainland UK Only - (NB: Orders must be placed BEFORE 3pm Fri) | £50.00 |
| £6.98 Extended Lead Time 20 Working Days inc. VAT - Mainland UK Only (NB: Orders placed after 3pm Fri will be dispatched the following Mon (In the event of a Good Fri/Bank Hol. Mon, this will be Tue)) | £6.98 |